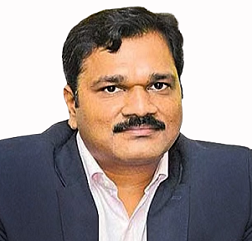 Shri Rajat Kumar SainiIAS, CEO & MD, NICDC
Shri Rajat Kumar Saini is an IAS officer of 2007 batch of Telangana Cadre. He did his B.Tech from IIT Delhi and Masters in International Development from Harvard University. He assumed the charge of CEO & MD, NICDC w.e.f. 20th July, 2023. Before joining NICDC, he was holding the charge of Director in Department for Promotion of Industry and Internal Trade.
He has more than 16 years of work experience in senior positions of executive leadership across sectors like education, health, poverty alleviation, livelihood intervention through community mobilisation - framing and executing policies and welfare programmes at State and Local Government.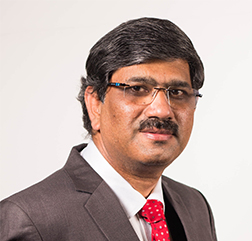 Shri Srikanth KommuGeneral Manager – Projects and Technical
Shri Srikanth Kommu is presently working as General Manager – Projects and Technical in NICDC Limited. He is a post graduate in Civil Engineering – Environmental from Delhi College of Engineering, Delhi.
He has worked in various domains with various reputed companies in his experience of over 28 years. He has a wide experience of different functions viz. business development, customer relationship, project sales, project management, project engineering and handling PPP projects in a leadership role. He has been associated with NICDC since 1st June, 2016. He is entrusted with discharging various duties including, coordination with project consultants, agencies, stakeholders for completing various phases of the projects. He has the responsibility for covering all areas of project management like project initiation, planning, design, cost management, time management, quality and safety management and to assist in development of institutional frameworks, regulatory frameworks, NICDC business plan and targets. On behalf of NICDC, he is also nominated as Director in various SPVs.
Shri Pradeep Kumar AgarwalChief Financial Officer
Shri Pradeep Kumar Agarwal is Chief Financial Officer of NICDC Limited . He is a fellow member of The Institute of Chartered Accountants of India and is a Graduate in Commerce.
He is a finance professional with over thirty-four years of experience in leadership roles, planning, building and overseeing the development of large infrastructure projects in industrial corridors, highways and tourism sector using PPP and non-PPP approach. Worked extensively in National Industrial Corridor Development Corporation Limited, National Highways Authority of India, India Tourism Development Corporation, Ministry of Finance and in practicing firms of Chartered Accountants. Have led and managed multi-disciplinary teams and anchored complex techno-economic decisions in conceptualizing, development and implementation of infrastructure projects. Have worked at various senior level positions such as Director Finance in ITDC, General Manager Finance in NHAI and Assistant Director in the Ministry of Finance.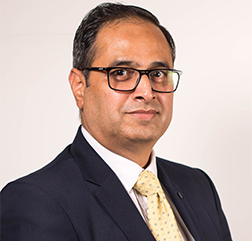 Shri Ajay SharmaProject Management Expert
Shri Ajay Sharma is working as Project Management Expert in NICDC Limited. He graduated in Bachelor of Engineering (Civil) from Zakir Hussain College of Engineering and Technology, Aligarh Muslim University, Aligarh and has done PGDM from Brilliant School of Management, Chennai.
He is a senior well rounded project management and business professional with over 25 years of experience and exposure to varied domains in infrastructure, fertilizer, oil and gas segment with multi-disciplinary exposure and expertise. Has worked and involved in the setting up of large-scale greenfield projects from concept to commissioning with handling of P&L responsibilities in smooth running of business. He has extensive exposure to PPP project and contributed to successful completion and commercial operation of BOT Road projects in infrastructure sector and development, construction and erection of ammonia/urea plant along with CPP power plant in fertilizer sector.
He has worked with Tata Chemicals, Essar Group and Reliance Infrastructure in collaboration with senior project leaders, decision makers, promoters and directors, various government organizations like NHAI, MoRTH, PWD, WBIDC, Eastern Railways, CPCB, MoEF, & project consultants like EIL, PDIL, International Process Licensors – HaldoreTopsoe, Saipem, ABB Lummus, including investors and banks at all levels . He is associated with NICDC since 06th June 2018 and entrusted with development of industrial corridor projects from conceptualization to development and further implementation, working closely with the participating States and Ministries of the Government of India, planning, budgeting, monitoring, assisting in building frameworks, business plan and presenting the project to the various Government bodies and international organizations.
Shri Abhishek ChaudharyVP -Corporate Affairs & Company Secretary
Shri Abhishek Chaudhary is Vice President- Corporate Affairs & Company Secretary of NICDC Limited. He is a fellow member of the Institute of Company Secretaries of India and is a law graduate.
He has worked in different domains and with various multinational companies over the last 17 years. He has wide experience in the field of strategic planning and management, secretarial and legal matters, project financing, public-private partnership projects, corporate governance and exposure of dealing with various Government Departments/organizations. He is associated with the National Industrial Corridor Programme of Government of India from the last 10 years. Apart from discharging various secretarial and legal functions in the organization, he is discharging multi-functional roles in project structuring, marketing and administrative activities. He is actively involved in the strategic aspects of the projects and responsible for interacting with the participating States & Ministries of the Government of India and presenting the project to the various Government bodies and international organizations. Further, he has also been nominated as a Director on behalf of the Government of India in various companies.