Integrated Multi-Modal Logistics Hub (IMLH) at Nangal Chaudhary in Haryana 
The Manesar Bawal Investment Region (MBIR) has been identified as one of the eight(08)InvestmentRegions (IRs) in DMIC and an Integrated Multimodal Logistics Hub (IMLH) admeasuring 886.78 acres within the IR has been proposed in congruence with DMIC's objective of creating a strong economic base with a globally competitive environment and state-of-the-art infrastructure facilities.
AnIntegrated Multi-Modal Logistics Hub also known as Freight Village, is much more than just a terminal. As the top logistics facility in the freight distribution cluster of the functional and value-added hierarchy, Freight Village builds on and incorporates the functions of the other types of logistics centers covered in the typology. In terms of functions, a freight village provides a host of auxiliary services such as warehouses, groupage activities, customs, maintenance workshops, insurance, banking, offices, and other services.
Beyond freight infrastructure, the village element of a freight village corresponds to the services necessary to satisfy and respond to the requir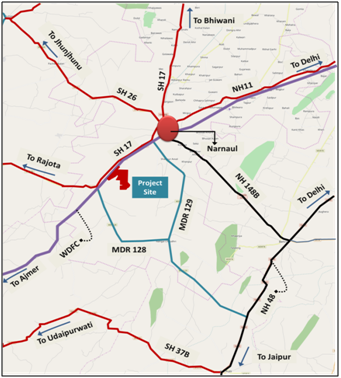 ements of its tenants. Some of the basic logistics services usually found within a freight village will be Loading/unloading primary modes; Storage; Transferring to secondary modes; Freight forwarding; Cross-docking / merging in transit; Freight consolidation / deconsolidation; Distribution / final delivery; Cold storage areas; Warehousing; 24-hour accessibility etc.
Site Location:
The site proposed for the development of the Freight Village is spread over 886.78 acres and is in Mahendragarh district of Haryana.
The site is adjacent to the proposed Western DFC to its North and NH-148B in the East and next to Nizampur Railway station between Ateli Mandi and Dabla stations.
The project site is located across three villages namely Bashirpur, Ghataser and Talot and the site is near the Haryana - Rajasthan Border region.
The site is located along the Western Dedicated Freight Corridor (WDFC) Rewari - Phulera Chord.
In addition to WDFC, the site is well connected with the National Highways and State highways.