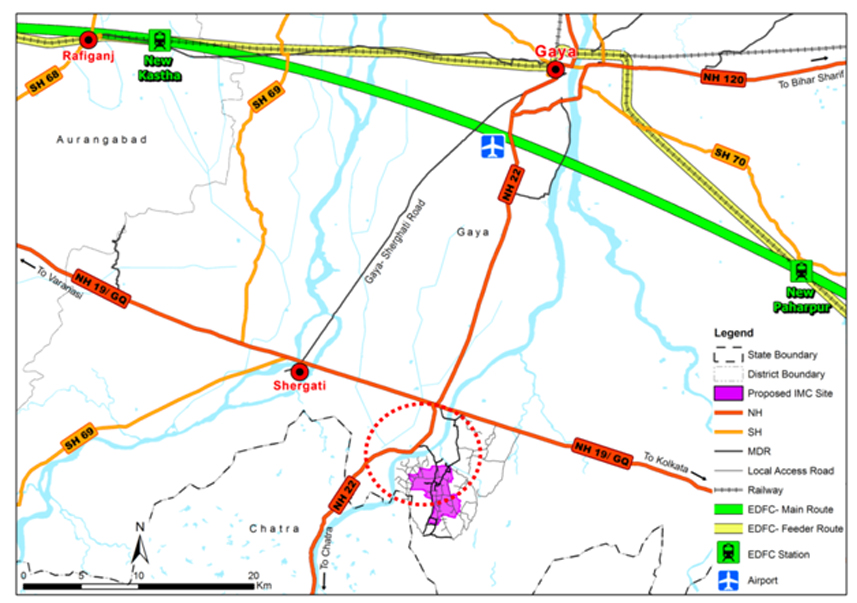 The site in Gaya district in Bihar is being developed as an Integrated Manufacturing Cluster (IMC) as part of the Amritsar Kolkata Industrial Corridor (AKIC). AKIC is conceptualized along with high capacity, high-speed Eastern Dedicated Freight Corridor (EDFC) as the backbone and runs parallel to the Golden Quadrilateral and its diagonals, thus enhancing the attractiveness for investments.
The proposed (IMC) site is located in Dobhi Block of Gaya district in Bihar with an area of 1,635.7 acres, which is one of the twenty-four blocks (tehsils) in Gaya district. Gaya district is one of the important districts of Bihar, due to its cultural significance attached with Bodh Gaya where Buddha gained enlightenment by praying under a Bodhi Tree.
The IMC site is located in the vicinity of NH 22, which connects the city of Gaya and the state of Jharkhand. It is located approximately 6.5 km from Golden Quadrilateral (GQ)/ NH 19 and approximately 35 km from the proposed New Paharpur Station of EDFC.
The process of selection of consultants for preparation of detailed master plan and preliminary design report for roads & services/ utilities is underway.